Well, there was a little hitch in my get-a-long (see below), but today, I'm so excited to introduce the first ever Catered Crop Challenge.
As I mentioned a few days ago, I created Catered Crop to be a virtual crop catered to all of you. Well, three years and almost 500 posts later . . . it finally occurred to me that I was doing all the sharing, when, really, my favorite part of any crop is walking around and seeing what everyone else making. (Honestly, I never get any projects made at crops because I just get too excited about what everyone else is doing.)
So, today I'm launching the first ever Catered Crop "Follow the Recipe" challenge. Hee Hee, this way, you get to cater this crop, and I get to just set back and enjoy all your creations.
Here's how the challenge works – super, duper easy. Just use ANY of the ingredients listed in the recipe of the sample card. Yep, ANY. And, since I'm an equal opportunity shopper, following along with my recipes should be a piece of cake. Here are the rules:
Use ANY ingredient or technique listed in the recipe of the sample card. You do not have to use the same brand. For example, if the sample recipe included Bazzill or Prism card stock, you can use Stampin' Up!, Neenah, or whatever you have on hand.

I definitely don't mind if you post your project to other challenge sites.

Add your project using the Linky tool below by December 23, 2010.

If you have a blog (it's not a requirement), I'd love it if you either linked back to here or included the following badge in your post or sidebar. If you post to Splitcoast Stampers, add the challenge number to the "Keywords" so we can all see the entries.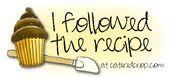 That's it! After December 23, my family and I will argue over, I mean, select a winner. I'll feature the winner in a blog post and send them the code to add this badge to their blog. Your project (card, altered item, scrapbook page, etc.) could be the next inspiration for our challenge.
So . . . on to today's challenge, FFTR1. Today's recipe challenge is from the project I posted just yesterday. Here's the project and the recipe.
Paper – Bazzill; BasicGrey Figgy Pudding; BasicGrey Mortifica
Stamps – Eat Cake Graphics, 8155-O Finding the Right Tree
Inks – Memento Rich Cocoa
Tools – Cuttlebug Embossing Folders
Embellishments – Button, Crystal Star Pin (Maya Road TK1411)
Fabric – Torn gingham fabric scraps
Fibers – Jillibean Soup Bakers' Twine
Glitter – Tim Holtz Distress Stickles (Rock Candy)
Techniques – Paper Piecing and Sewing
And, here's a tool you can use to help track your recipe ingredients Catered Crop Recipe Cards.
Okay, my fellow catering croppers, you're next. If for any reason the link too doesn't work (they can be tricky), just leave a comment with a link to your creation and I'll get it loaded for you.
Hope you'll join us – can't wait to see your creations!