According to my research, laughter is the best medicine,
giggling is good for mild infections,
chuckling works for minor cuts and bruises,
and snickering only makes things worse.
~ Randy Glasbergen
When Jak Heath sent me this image from John Boundy (of Just Inklined) to help spread the word about her campaign for Katie, well, I just about bent over laughing. I'd apologize to all my nursing friends for this nurse caricature, but, actually, I think it looks just me when I was a hospital floor nurse. Okay, I never wore a white cap (that was before even my time), but I always had a stethoscope around my neck, squinted more wrinkles into my eyes through my green glasses, and, yes, wore goofy big 'ole shoes. And that hair! Just part of the madness.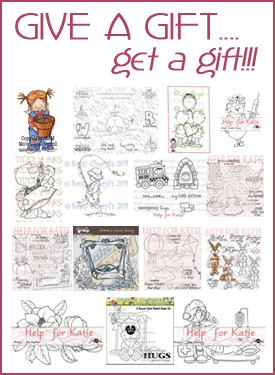 This crazy image is just one of the dozen or more digital stamps Jak Heath has gathered to raise money for her friend Katie Renz. Katie is an amazing young paper crafter battling Stage IV cancer who's just captured all our hearts. Jak can explain her campaign so much better than I can, so just head over to "Help for Katie" at Jak's site. When you get there you'll be able to see what all the talented artists have designed for Katie's cause. Make a donation of £15 (or about $24.00), download the images, and you'll also be entered to win some amazing prizes.
You'll get John Boundy's crazy fun digital stamp in both black outline and in color – how fun is that?! And, see, I didn't even use the whole stamp.
This week's sketch from The Sweet Sunday Sketch Challenge, SSSC99, just jumped out at me.
Mr. Boundy's image is so fun, I really didn't use a lot of ingredients (well, not as much as I usually do, anyway).
Paper – My Mind's Eye Be Loved, Stampin' Up! Barely Banana, Neenah
Stamps – John Boundy's Digital Help for Katie
Inks – Copic Markers
Tools – Nestabilities
Embellishments – Stampin' Up! Button
Fibers – Maisy Mo Tastefully Tattered Cotton Strips, DMC Embroidery Floss, rickrack ribbon
Other Mediums – Crystal Effects for those wild glasses and thermometer
Techniques – Paper Piecing
So darlin's, go send a little laughter to Katie and then go visit her friend Jak. Oooo, and if you do join in the fun, be sure to leave me a comment here so I can see your creations with all those incredible stamps.