I don't think there's anything on this planet that more trumpets life that the sunflower. For me that's because of the reason behind its name. Not because it looks like the sun but because it follows the sun. During the course of the day, the head tracks the journey of the sun across the sky. A satellite dish for sunshine. Wherever light is, no matter how weak, these flowers will find it. And that's such an admirable thing.
~ John Clarke (as quoted in Calender Girls)
You know, no matter how old my babies get, I still worry about them when they're sick. One of the most heart wrenching phone calls I ever got was from Ben's Freshman dorm in San Antonio. I picked up the phone to a pathetic voice: "Mom, I'm sick." You could just hear the desperation in his voice. Always the nurse, I had packed him well for all types of medical emergencies, so he was well equipped for his cold, But, still, I offered to drive down from Austin with some soup and nursing. Ben said: "No, I just wanted to talk to my Mommy." I guess, no matter how old my babies get, they still want Mom when they're sick.
Almost ten years later, my babies are still too far away when they're sick. (Yeah, that still freaks me out.) So, I set out to make a get well kit that would cure the cold but also feed the soul.
Here's the before: A little green tea, ibuprofen, alcohol wipes, tissues, and trail mix (heart-healthy nuts, roasted sunflower seeds and Reese's Pieces).
And here's the after.
The bottle on the left holds the trail mix, and the pillow box on the right holds this: a tissue coozie and mini-envelopes for the ibuprofen/tea/alcohol wipes.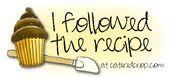 Have you joined the party, yet? I'm getting my project done at the midnight hour before tomorrow's Quickfire, but, as usual, ya'll are knocking my socks off with the entries for Catered Crop FTR8. I'm really loving all the variety, which is why I love this party so much. I followed Dorcas's recipe by using her mini prints, blue and brown colors, ribbon, flower embellishments, die cuts, and even tissues.
Here are a few tips for any of you who want to try this project.
Instructions for the Tissue Coozie are compliments of Stitch Craft.

If you follow Catered Crop (God Bless You), you know I love mixing and matching patterns. Using pattern packs makes it easy, and our sponsor, Paper Garden Projects, has the best selection I know. I used a pack I've been hoarding from Kaisercraft called Peachy Keen. Kaisercraft paper packs include specialty papers (the paper on the front of the Pillow Box has gorgeous flocking) and four sheets of coordinating die cut tags, labels and borders (that's how I got those cute tags on the mini envelopes).

The Clear Pillow Treat Box is also from Paper Garden Projects. When it pops open it's 5.5" long, 4" wide and 1" thick at the center. I cut a piece of burlap 6" by 9" and sewed the short ends together to make a fabric tube to line the inside of the box.

To make a square, 4" x 4" envelope, you can follow the square envelope tutorial at ScorPal.

How do you follow an act like Elaine's Magic Boxes? Well, I tried following her advice by researching gold Aztec sunflowers before coloring the sunflowers. This Heartfelt Creations stamp coordinates with Nestabilities die Blossom Two. Here's a video that gives you some wonderful tips for working with the die and stamp, so fun.

After I colored the Sunflower with Copics, I put a two-sided clear adhesive over it (Be Creative Tape Sheets) and then sprinkled it with microfine transparent glitter. After it was smothered in glitter, I cut it out with the matching die cut. Then, I sponged the edges with Yellow Ochre Colorbox Chalk ink.

I put Crystal Effects clear liquid lacquer in the middle of the smallest blossom and then applied Barbara Trombley's Elements by Art Glitter. It's a wonderful combination of earth textures.

Finally, I used dimensional adhesives to layer the blossoms.
Apparently all this color, glitter and texture worked, because while I was setting up my photo shoot outside, I had to shew away a honey bee and butterfly.

Here are the details on the ingredients I used.
Pattern Paper/Cardstock – KaiserCraft, Neenah
Stamps – Heartfelt Creations Aztec Gold Sunflower, My Favorite Things Banner Alphabet
Color Mediums – Memento, Copics, ColorBox
Fibers – String, Teresa Collins Gingham ribbon, Pink Paisley Ribbon Pleats, Rickrack, Lily & Will fabric for the Tissue Coozie and fabric top on the bottle, burlap
Tools – Nestabilities Blossoms Two, Labels Two
Miscellaneous – Tissues, Ikea Rajtan Spice Jars, Barbara Trombley's Elements by Art Glitter, Crystal Glitter Ritz Transparent Microfine Glitter, Be Create Tape Sheets, Crystal Effects
Wow, I'm sorry to be so long winded tonight. Thanks for hanging out with me. So, what are you still doing here. Go link up your projects and join the party.