Our perfect companions never have fewer than four feet.
~ Colette
This is a remake of one of my favorite cards from 2010, "Oh Baby – Animal Magnetism." It's a really magical card (yes, I'm crowing about it) because it starts like this . . .
and with the magic of skinny little magnetic snaps, you can add these bottle cap magnets to the top of the card.
You know I love it when I can craft something to go with a card. So I love that these bottle caps can do double time as refrigerator magnets. They're udderly perfect for showing off pictures and creations from the little guys. I had so much fun with these critters, I milked it by making a matching bottle top.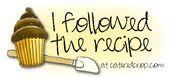 I used several of Nana's ingredients for our Catered Crop Follow the Recipe (FTR) #9 Party (stripes, plaids and polka dots patterns; kraft, red, green, blue, and yellow colors; ribbon, and sewing). And, I used the boy theme from both Nana's recipe and the current DeNami Design challenge. Ah, you herd me right – two challenges in one. Have you joined the party, yet?
Here's the rest of the recipe.
Pattern Paper/Cardstock – October Afternoon Farm Fresh, Stampin' Up!, Prism, and Neenah
Stamps – DeNami Designs Farm Animals and Love Circle
Color Mediums – Memento and Copics
Other Mediums – JudiKins DG3 Art Gel
Fibers – Stampin' Up!, DeNami Design Grosgrain, Baker's Twine
Tools – Nestabilities, 1" and 1-3/8" EK Success Circle Punches, BasicGrey Magnetic Snaps
Embellishments – Bottle Cap Inc. 6-Petal Bottle Cap and Clear Acrylic Cabochon
The little flag pin is so easy to make. You can print or stamp your sentiment onto patterned paper. Then cut your paper into a flag shape, and just fold over the edge to adhere it to a hat pin. Tie a little Baker's Twine or thin ribbon, and, no horsing around, you have an adorable flag pin.
Hope you've enjoyed my punny farm animals. But I gotta moo outta here for now. Come take a gander tomorrow and I'll show you how to make these bottle cap magnets.